Welding Services in Canutillo, TX
Since 1994, Westside Welding, Inc. has been a premium custom sheet metal fabricator in Canutillo, TX. We specialize in creating custom work with aluminum and stainless steel design, fabrication, installation and are equipped and qualified to handle almost all of your welding fabrication needs for commercial and industrial areas. Contact us today for estimates on your project!
Custom Welding Fabrication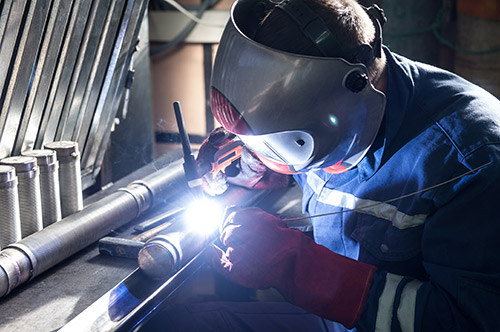 From prototypes to full production runs, aluminum welding to stainless steel, no matter what the specifics of your welding fabrication project, the team at Westside Welding, Inc. is ready to take it on. We're the local experts for all things involving welding fabrication in Canutillo, TX, equipped with the knowledge and tools to tailor our creations to your unique specifications. We welcome commercial and industrial customers from around the state, with the capabilities to produce and ship nationwide. We welcome the opportunity to put our seasoned welding services to work for you, on your next aluminum or stainless steel welding, fabrication or repair project.
Each member of our team is highly skilled and well-rounded in his trade. Our tenured staff—combined with our fully-equipped facilities—enables us to tackle welding and fabrication in Canutillo, TX with a quality and cost-effective approach. This means your project is always completed on time and within budget, made to spec and exceeding all quality standards! Whether it's prototyping for a specialized component or welding in Canutillo, TX for a piece that's already been formed, we're ready to lend a hand. Let us put our decades of experience to work for you—we promise your complete satisfaction.
Our RSTAMP-certified welders are all qualified to create and repair any jobs you may have.
We're a proud member of the Hispanic Chamber of Commerce in Texas.
Our business has been locally-owned and –operated in Canutillo, TX since 1994.
We're equipped to tackle most commercial and industrial metalworking jobs.
We offer free estimates to customers on all welding services.
National Federation of Independent Business (NFIB)   Hispanic Chamber of Commerce
Let's Start Creating
From basic sheet metal work to custom welding fabrication, we're the local experts you can trust with your project. Contact us today for a free quote on welding services, and we'll be happy to get started.
Serving the welding fabrication needs of El Paso, TX & surrounding areas:
Canutillo, TX
Anthony, NM
Santa Teresa, NM
El Paso County, TX
Dona Ana County, NM
Berino, NM
San Miguel, NM
Mesilla Park, NM
La Mesa, NM
Sunland Park, NM
Chamberino, NM
Chaparral, NM
Fort Bliss, TX
Vado, NM
Mesquite, NM
Las Cruces, NM
White Sands Missile Range, NM
Cuidad Juarez, Mexico