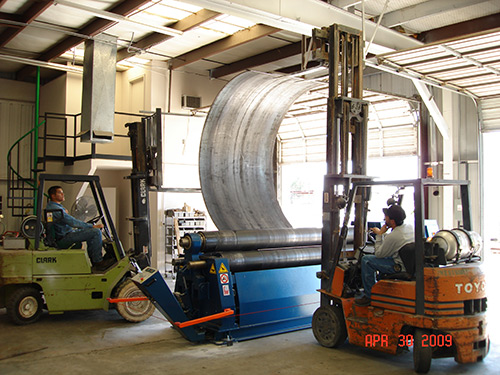 At Westside Welding, Inc., our capabilities regarding metal fabrication in El Paso, TX are extensive. Our shop is fully equipped with all of the tools and machines to accept projects big and small, regardless of their specifications or intricacies. In fact, we welcome the challenge your project has to offer and will meet and exceed specifications for complete customer satisfaction!As a full-service sheet metal fabricator in El Paso, TX, we work to offer our customers a full gamut of capabilities that are conducive to their production demands. Whether you need angle rolling, shearing, plate rolling, CNC plasma cutting, shearing or other forms of fabrication, we're here to provide them.
With a staff backed by nearly 20 years of experience and state-of-the-art equipment to help us bring your vision to life, there's no need to look elsewhere for sheet metal fabrication services. We welcome your project and will give it the attention, care, and diligence it deserves to come out looking flawless.
Our Capabilities
Angle Roll Capabilities
Angles to 6" x 6" x ¾"
Pipe to 6" sch. 40
Tubes to 5" x 5" x 5/16"
Bars to 1" x 6" hardway
Beams to W8 X 31#
Round Solid 4"
Channels to C12 x 30#
Our Equipment
Geka Iron Worker up to 1'
5' x 10' CNC Plasma Cutter up to 1-1/4" thick mild steel; ½" stainless steel.
Break Machine 1/4" x 12' (steel), 3/16" x 12' (stainless steel)
Shear Machine ¼" x 12' (steel), 3/16" x 12' (stainless steel)
Rolls from 3/16" (steel) roll down to 6" x 5', ½" x 10' x 12" diameter
Vicon Hi-Definition Plasma Cutter6′ x 12′ table size
Durma E 40400 Brake Press 1/2″ x 12′
Vertical Center Nexus 510C2KY Mazatrol Matrix Nexus Control Latest design in Vertical Machining Centers 51.1″ x 21.6″
Traveling Table, 3-axis, 30 tools, Stroke 41.3″ x 20.08″
For more information about our sheet metal fabrication capabilities or to inquire about your project,
please contact us today by calling 915-877-5345.